We're back! Our blogpost on Wednesday was interrupted by the delivery of a greenhouse - perhaps surprising in view of the fact that we already have one which is adequate for our needs. Well, an explanation is called for - but that can wait until next week

I had a wildlife task to perform this morning so I was off to the local nature reserve so, I am now giving away the location of the photograph in Wednesday's edition: The Sanna! Otherwise, Moorcroft Wood

Courtesy of Google's clever photo/text software, the information shown above is set out at the foot of today's blog. You may be interested to read about this multiply-used piece of land - it has a long industrial history. Incidentally. 'Sanna' is derived from sanatorium - read all about it in the tailpiece
More jobs!
Awaiting the restoration of the water butt
which also sustained some damage
I got back to a long list garden of jobs that seems to get longer the more I do. Although it is very dull and rather cold again, I'm happy that the plants are not racing ahead. Old Codger needs the time to catch up on the ravages of winter. You don't think of plastic perishing, do you? This box usually supports a water butt which was leaning unsteadily - obviously, 100 litres was beyond it's limit. Let's see if this Peak District roofing slab is up to the job
Tune in next week to find out
Finding that a cold frame uses too much space, I had deployed a cheap plastic greenhouse last year. Alas, too cheap. The clear plastic covering did not last even one season. I tried to do a repair in the autumn but winter won, underlining the point: buy only the type that has a reinforced plastic cover
It occurs to me that there may be readers about to make such a purchase. Since I've a fair bit of experience - good and bad - with these products, I will try to pass on some tips next week. In the meantime, if you are doing essential shopping at B&Q, you might like to look at their range. Nothing like seeing before you buy. Having said that, because of size considerations, I bought mine online. As I say, more about this topic next week
NOT Codger's garden
(needless to say)
More shopping
Observant readers will have spotted that we usually patronise our local Asda - thus the recent mention of their pots at good prices. Having reason to call in at Morrisons' early this week, I noticed their latest garden range. Again, very well priced pots and troughs. They even had sleepers, as in railway sleepers. A one metre job was priced at £10 - I wonder how well these will sell. I might pop back to find out. (Worth adding that I have also found Morrisons' good for plants)
Our local weather forecast
More cold to come
We keep being told that Spring has sprung. Does not feel like it! I think the message is commercial - the shops are stocking up. I find that folk still like to moan about the weather forecast: 'they never get it right!' - on the contrary, I am impressed by the accuracy. It is worth looking at the monthly forecast - you can see it here
Simeon & dad did the Sleep Out last week
Speaking of cold
We are glad to report that father and son coped with a rather cold night last Friday. Although rumour has it that they snook back inside a little before dawn. All the money raised to BCM, of course
And we are told by Shefali (above) to expect three degrees of frost tonight. So, it may be wise to stay in the warm for a little longer yet - but you have still two weeks to wait for the return of Gardeners' World. Monty has told me that the 2021 series is due is to start on Friday 19th March (actually, he said 18th March - but can't be right)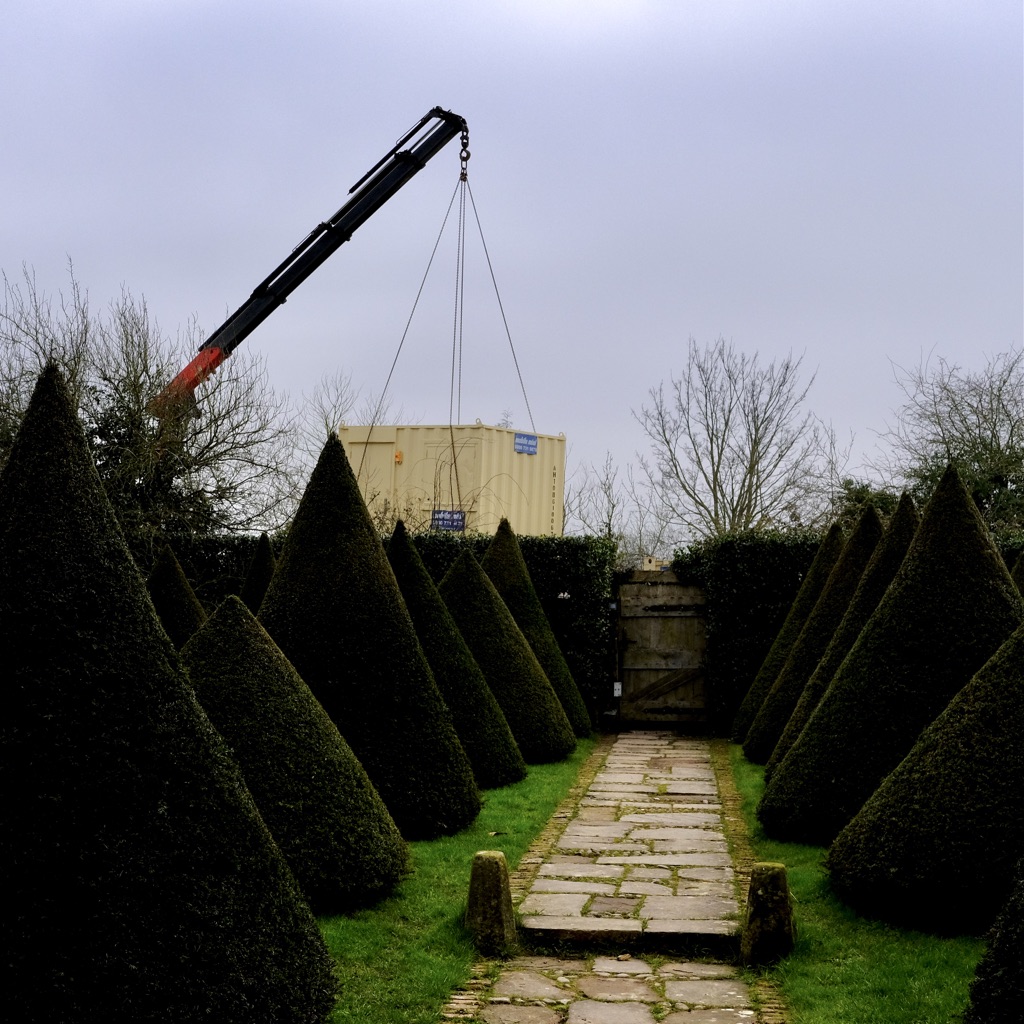 The film crew arrive at Longmeadow
He has tweeted a photograph of a Covid protected crew setting up at Longmeadow. They require no less than three shipping containers and operate the cameras remotely. How many shipping containers could you get in your garden, I wonder
Codger has not been tempted by the latest BBC garden programme - Your Garden Made Perfect - it's the last word that puts me off. However, we did spend some time with Carol Klein watching her new Channel 5 series - practical and helpful
We have also tried to work out what BBC Scotland are doing with Beechgrove Garden but the information is unhelpful. Has the series been abandoned?
Television apart, in my book the best source information, inspiration and advice is Charles Dowding. His excellent website is here. You can sample one of his many videos below:
(Technical note: if video does not show, please click here)
And finally ...
Despite being behind with jobs, we have managed to start sowing. Plus some of our over-wintered plants are looking for a good home. We'll tell you about them next week ...
... and I am also pleased to tell you that our good friend, Angela Webb (assisted by hubby Keith) is planning her annual charity plant sale. Covid-19 restrictions allowing, it is being booked for July - precise date to be announced - watch this space
Best wishes from the old (and creaking) Garden Codger
Tailpiece. This is the text from the Moorcroft Wood noticeboard - first a couple of photos I took in January
These are not natural rocks but the result of earlier iron working


Moorcroft Wood Local Nature Reserve
Welcome to the Sanna!
Woodland Wildlife
Moorcroft Wood is an urban nature reserve covering 12.2 hectares, the Walsall Canal and a branch canal (Bradley Locks) form the north eastern and south eastern boundaries to the site.
The woodland here is broadleaved, dominated by Sycamore with some False Acacia trees. These trees are part of the original 1904 planting and can be seen throughout the woodland. The trees are now fully mature providing a dense canopy which is being thinned and maintain the ground flora and encourage new growth to form woodland with a mixture of different aged trees, to provide as many habitats for wildlife as possible. The woodland habitat goes from the woodland floor to the tree canopy and it is these differing levels that provide different habitat niches that provide for many wildlife species which is why woodlands can support so many different species of flora and fauna.
Wildlife inhabiting a wood may only do so for part of the time, often using other habitats such as grassland or wetland for finding food. It is the habitats and wildlife of Moorcroft Wood that make it special with areas of open water, woodland, grassland and scrub. Over 40 species of bird have been recorded at Moorcroft Wood, along with numerous invertebrates including aquatic species, amphibians and mammals.
The wood was given Local Nature Reserve status in 1996 and due to its cultural and biological value is also designated as a Site of Importance for Nature Conservation. It is a valued local nature site and there is an active 'Friends of Moorcroft Wood' group who work closely with Walsall Countryside Services, and are actively involved in helping to manage the site. The Wildlife Trust for Birmingham and Black Country work with both Walsall Countryside Services and the 'Friends of Moorcroft Wood' to support improvements to the site for both people and wildlife.
If you would like further information about Moorcroft Wood LNR or about countryside in Walsall or to find out how you can get involved with the Friends of Moorcroft Wood or to join in with volunteering activities contact Walsall Countryside Services Tel: 01922 458328 countrysideservices@walsall.gov.uk or visit www.walsall.gov.uk for information on events, at Moorcroft Wood LNR and elsewhere in Walsall.
History
Moorcroft Wood was once part of the grounds of the Moxley Hospital or Sanatorium. When the hospital closed in 1995 the hospital site was sold for housing, whilst ownership of the wood was transferred from West Midlands Health Authority to Walsall Council. The wood is now declared a Local Nature Reserve in recognition of its value to nature conservation, and still often called the 'Sanna' in reference to the Sanatorium.
Until the start of the 20th Century, Moorcroft Wood had been a mix of farm land and factories. Following the Industrial Revolution, industry had flourished on site due to abundant coal and iron ore deposits. This industrial activity had ceased by 1904, when Wednesbury Hospital Board bought the site as the recreation grounds for the convalescing patients from Moxley Hospital. To improve the site numerous trees were planted including False Acacia and Sycamore
As the incidence of isolation diseases such as Cholera and Small pox declined, the hospital made less use of the woodland and it became largely abandoned. In the early 1980's work started to both conserve Moorcroft Wood for wildlife and improve access for visitors.
Please enjoy the wood responsibly and respect the wildlife, clean up after your dog and dispose of litter in a bin or take it home to dispose of there.